Read Time:
9 Minute, 55 Second
When it comes to holidays and fun, there are a lot of ways to reel in some much-needed time for yourself and self-care. Dindi is hands down one of the best places for that. Although the location is quite in an interior part of Andhra Pradesh, you definitely wouldn't regret being there, if that is what you are thinking of.
It is a quaint village located around 80kms from the main city of Rajmundry and around the East coast of Godavari. You will need to set out on a road trip but trust me, every penny spent on the trip is worth it, especially if you are planning on spending a few days of your staycation at the Rvr Sarovar Portico Dindi.
2020 has been a hard year for most of us, both in terms of the lack of social activities and interaction and how confined everyone was to their homes. So, this year, I decided to make it big and make it about safe traveling. I was very skeptical about everything, so I decided to travel within the state first. So, when looking up options, the moment I read about the RVR Sarovar Portico resort in Dindi, I knew where I had to be.
More than the beautiful and scenic views around this peaceful village, the wide range of resorts makes this a tourist attraction. Here, I will discuss everything that you need to know about Dindi and the RVR Sarovar Portico resort located there.
Why visit Dindi?
If you are tired of the regular hassle of everyday life and want to find some peace in your life after all the tiredness, I'd highly recommend visiting Dindi. The lush greenery of the coconut trees and the paddy fields will surely leave you baffled and never wanting to leave.
Often known as the "God's own village," Dindi is a piece of beautiful heaven on Earth that you will want to visit at least once in your life. But, if there's one resort that I would push you to visit Dindi for, it is the RVR Sarovar Portico.
Aside from the resort, you also have a few breathtaking sightseeing spots that you can look into. There is the Antervedi Beach and the lighthouse along with Bandarulanka, where you get to experience the rich history and tradition behind sarees and handloom and handicraft.
How to reach Dindi?
If you are traveling to Dindi, the route will be a little tedious but worth it. I made a road trip out of it from Vijayawada since that is where I am from. There are a few local railway stations to Dindi, including Rajahmundry, Kakinada, Palakollu, and Bhimavaram. But, even from these stations, you will have to book a cab or get a rental.
As for airports, you have Rajmundry, which is the closest one. And, we have Hyderabad airport, which is the nearest metro city airport that you can avail. 
My journey from Vijayawada to Dindi took around 2-3 hours, stops included. And, when I tell you that I wouldn't regret going on that 2-3 hours journey again, I mean it. The entire ride consisted of beautiful greenery on both sides, with amazing locals passing by. I enjoyed the ride through and through, and that is something I would very much like to do again.
In case you don't want to book a rental car, some buses run from the nearest stop, Palakollu, which is around 15 kms away from Dindi. But, the buses might not drop you right in front of the resort, which means that you will have to either hail a local transport or walk. I would suggest you take an auto from Palakollu if you want to save some extra coins.
As for an easier route of travel from Vijayawada to Palakollu, I know that there is an early morning train that you can hail. You can check the official Indian railway's website for details on that. But, if you had to ask me, I would personally suggest getting a rental car or book a cab for an easy journey.
Detailed Outlook of RVR Sarovar Portico
If you want to get a laid back, chill and reclusive staycation kind of a break, I'd 10/10 recommend you book a suite at this resort. This is the latest venture by the Sarovar group in Andhra Pradesh and has managed to steal the users' attention over time. Aside from the stunning views and the prompt service, you get to experience the most relaxing few days after a hectic week or month.
Beautiful views and modeling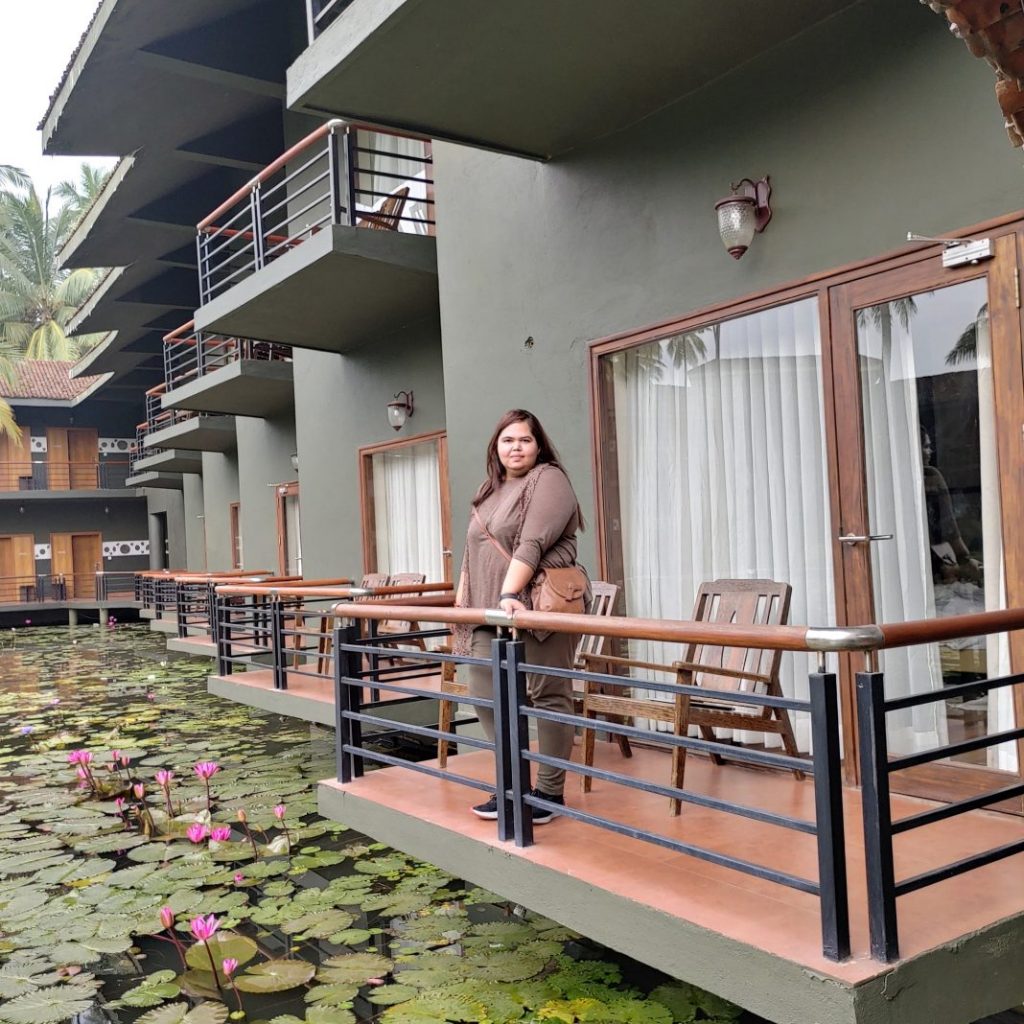 The first reason why this resort is a must-visit is because of the location and the overall construction. It is not your typical building and cottages with a generic setting, and it has a touch of nature and a piece of heaven that makes it one worth visiting.
The most eye-catching part of this place's construction is the three man-made ponds that have a range of lilies and lotus growing in them. One is present smack dab in the center of the resort, allowing you to have a beautiful background to enjoy some time in.
Aside from the basic rooms in the resort that you can avail of, three separate cottages are perfect for bigger families who want to book for multiple people and just have fun around them. They also have a variety of tourists flocking in, even from other countries, so you will likely see various people visiting the place, which is great too.
Rooms
There are three different types of rooms available in the resort, aside from the separate independent cottages. Since I wanted to make the most out of my stay, I booked the pond facing a premium room with a balcony. The room is spread across 407 sq. ft with modern interiors and a comfortable bed. The balcony with the pond view is stunning, especially when you have a steaming cup of coffee in hand and some good company.
Aside from this room, there are two other rooms – the river-facing deluxe room and the pond facing suits. Even this comes with an attached balcony to enable you to enjoy the stunning views of the exterior.
All the rooms are equipped with the necessary modern-day facilities, including wifi access, television, tea and coffee maker, mini-bar, work desk and chair, a high-rise bed, complimentary breakfast, room service, laundry service, bathroom essentials, and in-room safe to keep your essentials tacked away.
Try the delectable cuisines, especially local food
.
Whenever I visit a new place, I make it a point to enjoy the local food and the specialties that they have to offer. So, it was a given that I do the same here as well. 
Lunch Spread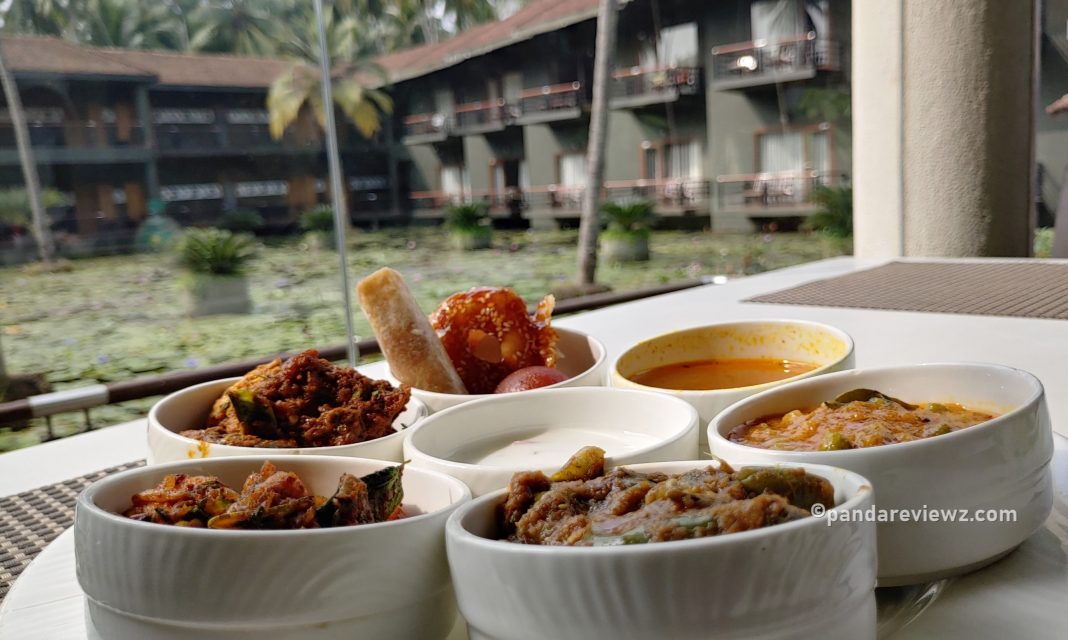 I was not expecting them to serve authentic and local food, given how diverse the customers were in the resort, but I was floored after seeing their menu and the food they brought out.
I loved devouring the Godavari Combo meal for lunch, which featured a spread of lavish local dishes that made me drool from the get-go. The platter included:
Gutti Vankaya Brinjal And Cashew Curry 

Aloo Matar

Rasam

Rice

Curd

Papad

Butter Milk
Every dish stood out with its unique taste and blended flavors. The curries especially had a creamy aftertaste that I cannot emphasize enough. Even the non-vegetarian options were diverse and pretty amazing, as narrated by my teammate who tried it. 
As per their recommendations, I can vouch for the fresh seafood dishes and the traditional chicken dishes that were served. Their prawn fry was a standout, especially with the taste and mix of spices that it had. The flavored chicken rice, in itself, was a show stopper as well. So, if you are a fan of non-veg food, I'd recommend you order these when here.
But, not just the main course, it was the amazing range of desserts that left me with my mouth wide open. I tried the local dessert options that they had, including Gormitti, Pootharekulu and Gulab Jamun. All of them melt in your mouth kind of good.
Breakfast Spread
Aside from the lunch spread, I knew I had to test out their breakfast options, too, and trust me, I didn't regret it one bit. The resort hosted the traditional breakfast dishes of Kona Seema, which is quite underrated across India.
Some of the dishes that I tried include:
You can refer to this Instagram post to get more descriptions about each dish and how it tasted.
Activities and Special Features
Aside from the food, the RVR Sarovar Portico resort also managed to blow my mind with their exciting list of resort activities. They have the standard adventure zones and sports areas with beach volley, badminton, lawn cricket, etc. 
If you are into more adventurous sports, you have zip lining and archery that you can get your hands on.
Sunset Point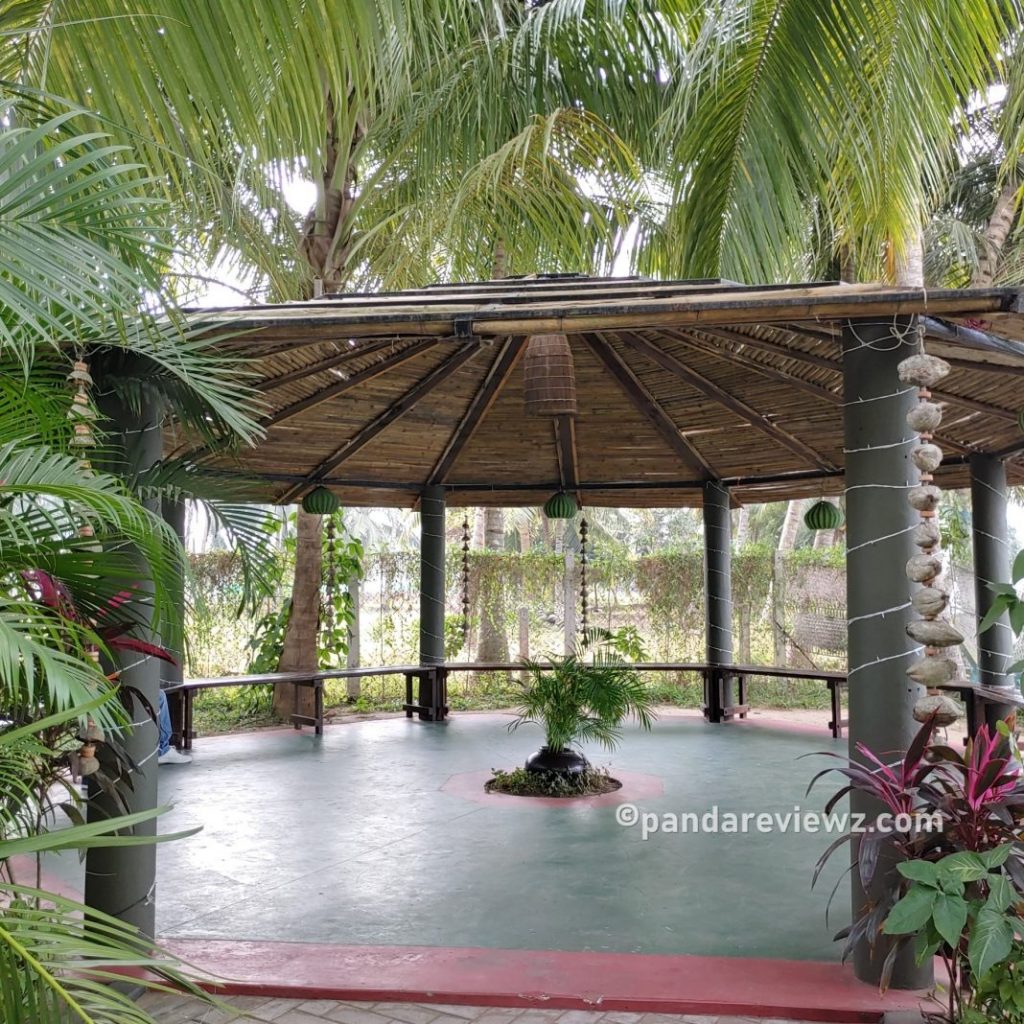 Apart from the activities, the resort also has a stunning sunset point that lets you witness the orange sky's beautiful hue against the backdrop of the Godavari river. 
Complimentary facilities:
When it comes to the complimentary facilities that come with the rooms, you get access to the swimming pool, fitness center and direct access to the game room. These are the basic activities that you can indulge in while you are there. But, these are not the end of the activities available in and around the resort.
Facilities on Charge
If you are willing to explore more and pay for extra adventure activities, there are a few amazing ones that you can take a look into.
Cycles on hire
This is perfect if you want to explore the resort's periphery and just take in the beauty of the lush greenery around.
Adventure activities
I wasn't aware that they have such a wide range of adventure activities available on site. But, there are a few good options to choose from that you wouldn't regret splurging out on. Some of them include:
Burma bridge – Rs. 236

Multi vine – Rs. 236

Steps across – Rs. 236

Commando net – Rs. 236

Gun shoot – Rs. 295 (10 shots)

Archery – Rs. 295 (10 shots)

Zipline – Rs. 295

Water zorbing – Rs. 295

Rock climbing – Rs. 354

Trampoline – Rs. 118 (15 mins)

High rope course – Rs. 531
Aside from these individual activities, they also offer silver and gold packages. The silver package contains seven activities and costs Rs. 1003 while the Gold package consists of all the activities and costs Rs. 1180.
Bird watching
If you are into nature and the beautiful sightings of exotic birds, you have that as an activity. But, you need to enquire about the same at the resort to get an in-depth understanding of the prices, and whether it is worth the money you spend, especially depending on the season you visit the resort.
Ponds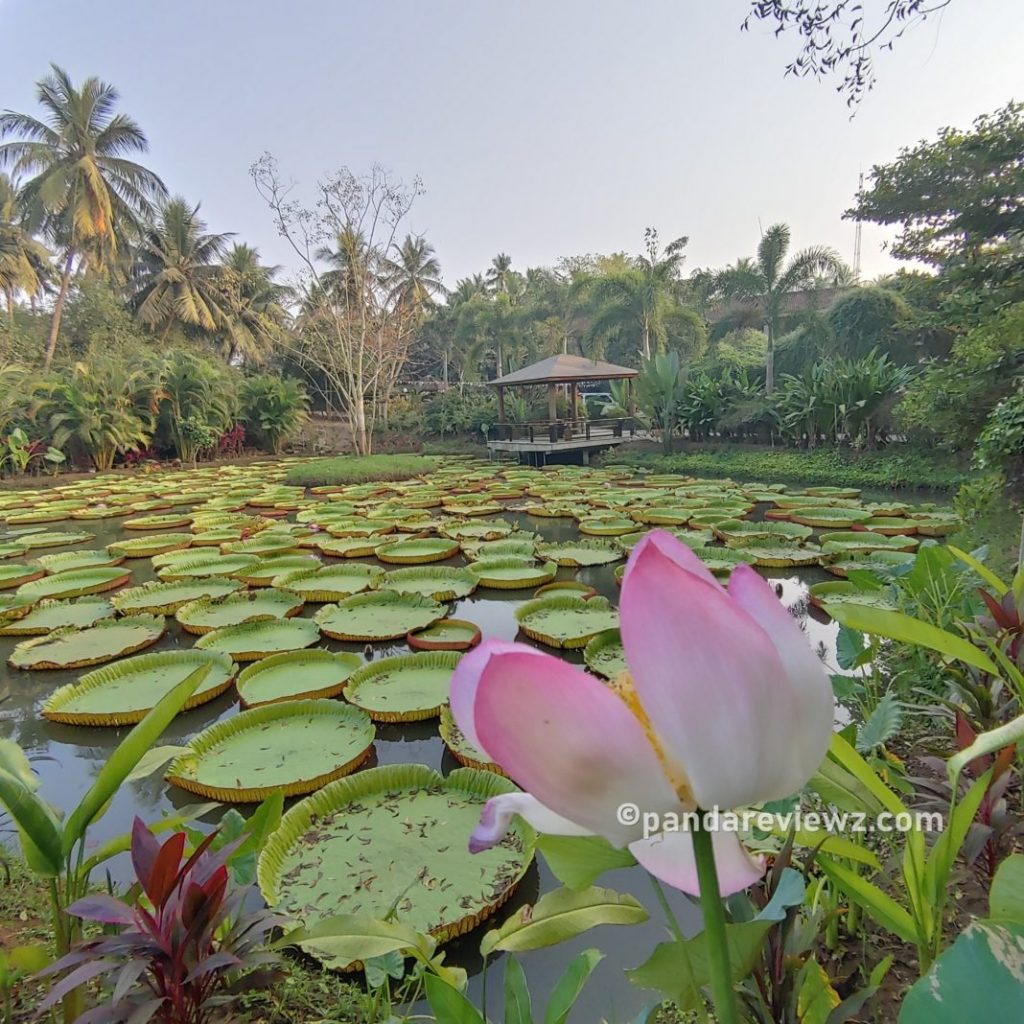 The highlight of this resort is the stunning view of the ponds that surround it. There are three different ones around, all of them giving the most tranquil and relaxing vibe that you need at your staycation. But the highlight of one pond is the flower that grows in it.
The Victoria Amazonica is the breathtaking flower that grows inside the pond. The specialty of the flowers is that they change color every day, and the leaves measure around 3 feet in diameter, which is massive. These leaves also take up the heart shape naturally, which is pretty amazing too.
Location: Dindi Village, Malikipuram, Razole, Andhra Pradesh 533253
Final Words
If you do want to enjoy a relaxing weekend in the quaint village of Dindi in Andhra Pradesh, I'd recommend you book your staycation at RVR Sarovar Portico resort. It has everything you need for a peaceful getaway to rejuvenate and refresh yourself after a hectic week.
Did you find this blog useful? Please let me now in the comments sections.