Read Time:
3 Minute, 41 Second
9 Kitchen – A Taste of Authenticity
New restaurants are always worth exploring and when I heard of 9 Kitchen, I knew not to disappoint my avid readers. It is a newly opened multi-cuisine restaurant in Vijayawada with special emphasis on bringing authentic food to the table of the visitors. With the rave that I heard about the place after it opened, I knew not to miss out on it. And, boy was I right.
So, this article here is a quick yet detailed review of the 9 Kitchen restaurant in Vijayawada that you can visit to taste the delectable food and enjoy the beautiful ambiance.
Location of 9 Kitchen
The restaurant is located in Guru Nanak colony beside NAC. It does have a very bright décor that makes you locate the restaurant pretty easily when you are nearby. It entertains both a lunch rush, evening rush, and dinner rush, so you can pick the slot that works the best for you.
Address – 54-1-7/36b, NAC Parking, Gurunanak Colony, Patamata, Vijayawada.
The ambiance of 9 Kitchen
If you are worried about the "open" ambiance of this restaurant, I would suggest you don't. The open setting is perfect for you to enjoy the beautiful scenic views and enjoy the food without any chaos.
They do have indoor seating if you are too particular about the dust and the hygiene concerns. All you have to do is enter the restaurant and let them know where you'd want to sit and they should accommodate you accordingly.
Aside from the proper sitting areas, both inside and outdoors, the restaurant comes with a bar seating arrangement, which is another bonus about the ambiance of this place.
Service at 9 Kitchen
I am particularly not very picky about service at a restaurant unless they are taking forever with the food or someone is too rude. And, I didn't encounter either of the issues at 9 Kitchen. The staff is very receptive to your presence and helps you with your orders right when you enter the place.
Even the waiting time for the food is minimal, which says that you can enjoy good quality piping hot food in no time at all. Moreover, the entire staff is extremely cordial from the start till the end, which is pretty on point as well.
The food at 9 Kitchen
Coming to the most important part of the article that you have been looking forward to. The food.
Well, I can't complain about anything at all. I went to the restaurant with a few of my friends to ensure that I had a detailed guide for the non-vegetarian enthusiasts too. So, don't worry, I got you covered.
The place does offer some amazing traditional dishes with an authentic taste that will leave you reaching for a second bite every second. They cook their biryani is an authentic firewood setting, which was pretty exciting to witness.
As for the actual food, let us start with the starters.
We ordered the starter platter that came with malai kebab, paneer tikka, chicken starters, and a few roasted veggies. I tried all the veg options and I can personally vouch for the taste and the flavor. As for the non-veg starters, every single one of my friends loved eating them, so I can say those are pretty good too.
The main course was a hit too. 
It started with the local fish dish, which my friends devoured in a second, so that goes to say how good it was. Aside from that, there were a few other chicken dishes including chicken drumstick, wings, crispy chicken, and bhuna chicken, which were equally amazing.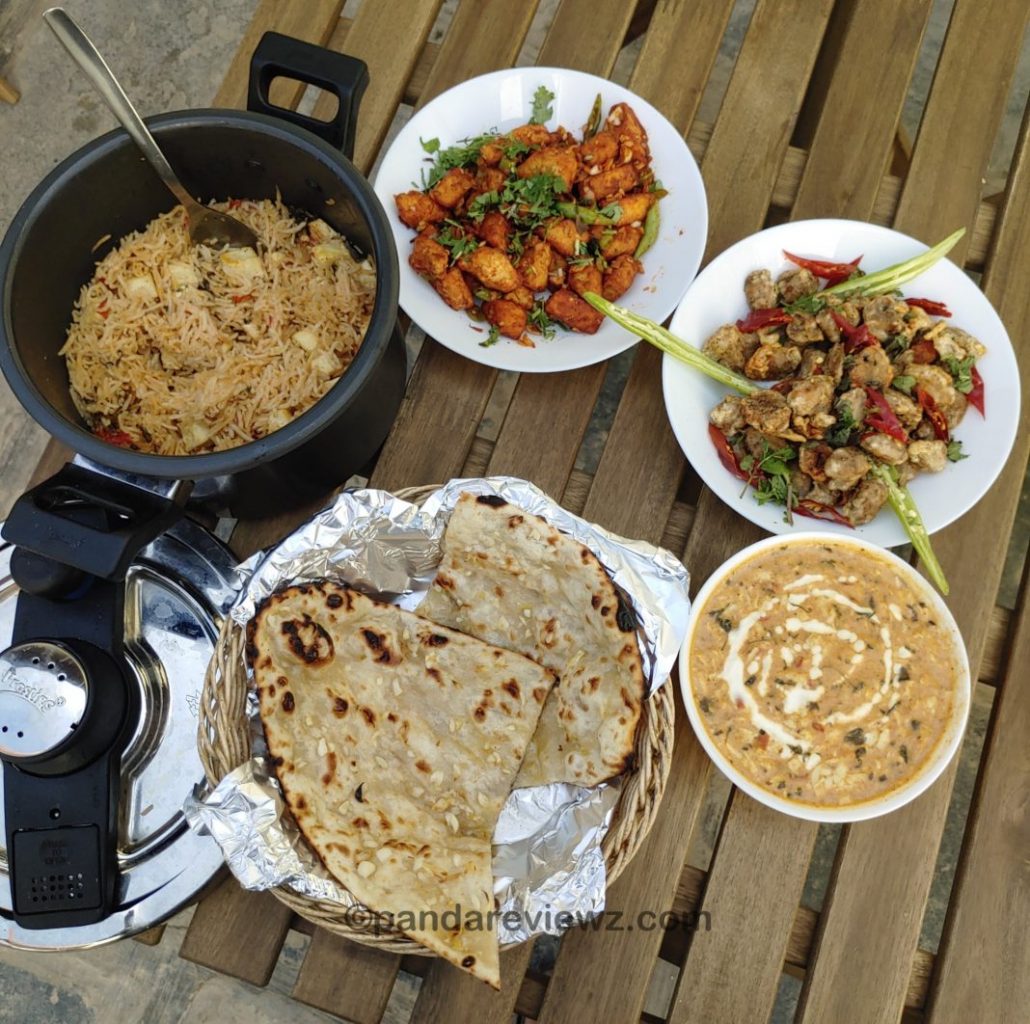 For the veg main course dishes, I would recommend ordering the Paneer cooker Pulav. I had Methi Chaman with garlic naan, which was pretty good too. The actual gravy part was smooth and flavorful.
They also served Thai paneer and crispy mushroom, which were a huge thumbs up as well. 9/10 would recommend it. 
Final takeaway
If you want some lip-smacking food at a reasonable price, I would highly recommend visiting 9 Kitchen when you are in Vijayawada. And, if you have to take away the top dishes of my recommendation, try the Paneer cooker Pulav and their Methi Chaman while you are visiting the place. Trust me, you would like it.